StimRouter for Foot and Ankle Pain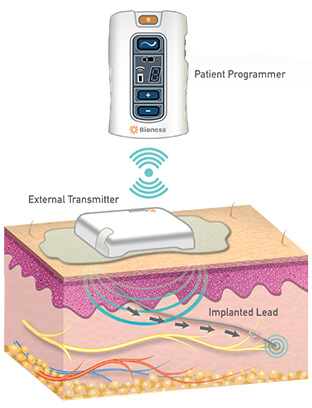 If you're suffering from chronic foot or ankle pain and have been unable to find relief from typical treatments, you may find a solution in the StimRouter implant. Chronic foot or ankle pain can result from injury, illness, or prior surgery and is often treated with physical therapy, medication, and/or injections. Some of these treatment options, however, fail to give patients relief and can come with a long list of side effects. This is where the minimally invasive StimRouter Peripheral Nerve Stimulation (PNS) procedure can become a viable option.
StimRouter works by specifically targeting the nerves causing pain symptoms. The StimRouter implant is inserted during a minimally invasive procedure using local anesthesia. Pain management can then be controlled by the patient via a remote control. StimRouter is set up specifically to each patient's individual symptoms and needs, and lets the patient be in control of their therapy.
FAQ
How do I know if StimRouter will work for me?
StimRouter is indicated for pain management in adults who have severe intractable chronic pain of peripheral nerve origin. Your doctor is the best person to describe how StimRouter compares to other possible pain management options.
How long should the implanted lead stay in the body?
The StimRouter lead is designed to be a long-term implant. Your doctor will discuss your appropriate individual treatment plan.
What can I expect during and after the procedure?
The surgical procedure is a simple procedure performed under local anesthesia. You will be awake during the implant in order to provide feedback to the implanting doctor regarding the effectiveness of the stimulation. After the small incisions heal 2 to 3 weeks later, your doctor will program your external pulse transmitter and teach you how to control your pain with your patient programmer.
Does StimRouter require a prescription?
Yes. In order to acquire StimRouter, a prescription from your doctor is required.
FAQ from StimRouter® PNS Frequently Asked Questions
To learn more about StimRouter and determine if it's right for you, schedule an appointment with our office.